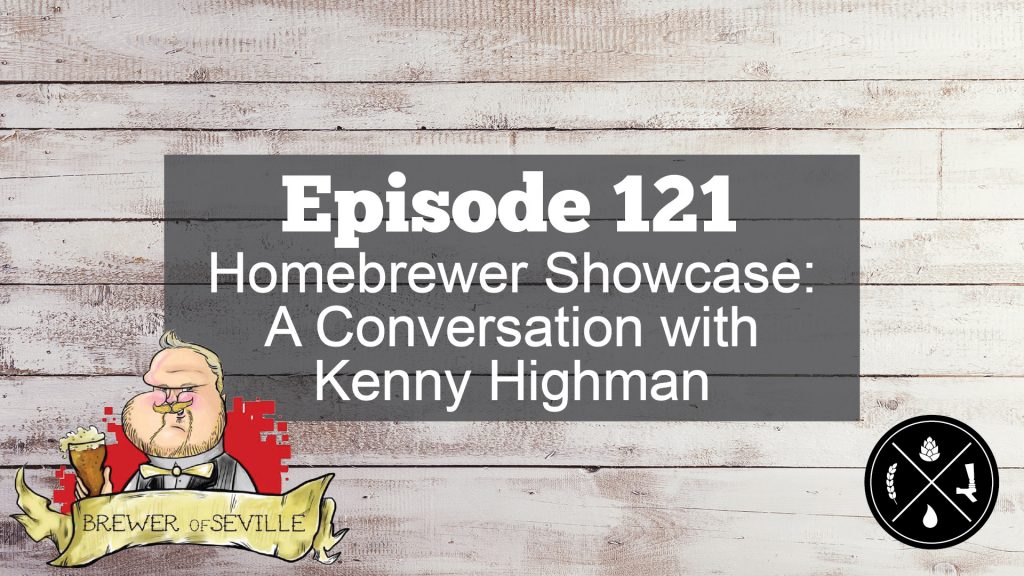 Hey there, homebrewer!
Welcome back to our little homebrew podcast
Podcast: Play in new window | Download
I'd like to start this episode with praising today's guest, Kenny Highman from "The Brewer of Seville", for being an awesome interviewee and also a saint of patience!
In case you didn't already know, we record this show earlier in the week and then after some touching up (i.e- automated audio processing to make us sound better than we really should), we then publish the show. In the 121 episodes of just this show that I've produced, we've maybe had bad enough technical difficulties or one of us will flub bad enough that we have to stop recording and fix the issue. I never (and I mean NEVER) really even bring that up with guests but before recording today's show I happened to mention to Kenny that "in case we flub, we can stop and fix the issue. no worries because it NEVER happens!"… my subtle smugness would prove to be my downfall because poor Kenny had to hang out with me for over an hour just to produce the content for today's show! The good news is that Kenny is a blast to hang out with and I am super happy that I got to know him better even thru all my technical difficulties and flubs.
On Today's Show
Kenny, also know as The Brewer of Seville, joins me to talk about his homebrewing journey. This is another edition of our "Homebrewer Showcase" and the more I produce these episodes, the more I'm really enjoying them. Kenny hasn't been homebrewing for a very long time but you can tell throughout this episode that he's zealous for the craft and it's exciting to see what he's doing. I am confident that you're going to enjoy this podcast episode!
We want to hear from you
As always, If you have a question that you'd like us to discuss on a future episode, please click on the "Submit a Question" link at the top of our website or you can now call in your questions via our questions hotline @ 325-305-6107 and leave your message after the beep.
Let us know what you think and enjoy the show!
cheers,
joshua

Today's show is brought to you by HomebrewSupply.com! HBS' has all of your favorite recipe kits, fresh ingredients, and homebrew equipment in stock. Homebrew Happy Hour listeners can visit HomebrewSupply.com and use the promo code "HHH" to receive 5% off your order.
(Discount can not be applied to products that are drop shipped including, but not limited to, products by Spike Brewing, SS BrewTech, Brewer's Edge Mash & Boil, and more. See website for details)