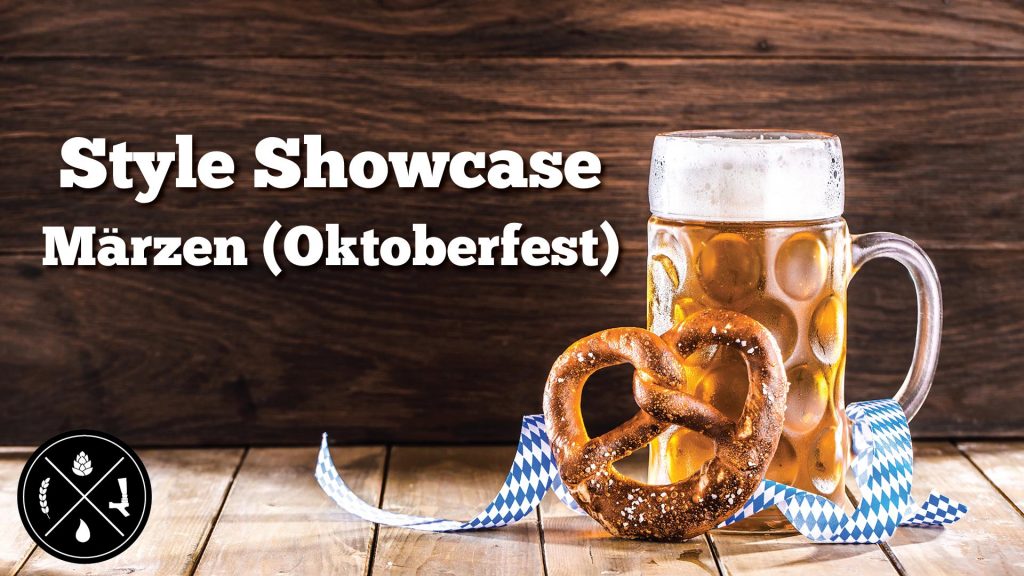 MÄRZEN (OKTOBERFEST)
Märzenbier [March beer] is a copper-colored German beer and per its name, typically brewed in March. Märzenbier originated in the 16th century when Bavarian brewers wanted to use their extra hops and malts before brewing stopped for the summer. They would brew from September 29 (St. Michael's Day) to April 23 (St. George's Day) due to a Bavarian decree issued in 1553 from Duke Albrecht V, and only applied to Bavaria. These cold fermented beers helped drive off potential bacterial infection that was prevalent at the time in Ales. Uniquely, the caves around Munich provided the perfect environment to lager beer throughout the summer. Since they would have to store the beer for long periods of time, a higher gravity and higher volume of hops were used, which act as natural preservatives. Though they would drink Märzenbier throughout the summer months, by the middle of fall, fresh grains and casks would be in high demand for storage. This meant that the older, lagered beer would need to be consumed in a hurry to make room for new tasty beers!
In royal fashion, the wedding of Prince Ludwig of Bavaria and Princess Therese of Saxony-Hildburghausen on October 12, 1810 would set the foundation of Oktoberfest as we know it. Prince Ludwig invited all of Munich to a meadow outside of the city to celebrate his wedding, which lasted for 5 days! The party was such a success, Prince Ludwig mandated that the celebration occur every year on their wedding anniversary. The official Oktoberfest takes place in that same meadow to this day.
Partially due to time of the year, the first beer to be served at the celebration was Märzenbier, but not as we know it today. Back then, it was more along the lines of a Dunkel, being darker, maltier and having a higher alcohol content. The change ocurred when they ran low on beer in 1872 and Spaten Brewery supplied a lighter amber colored lager called Ur-Märzen which was an adaptation of the Vienna Lager. This was quickly adopted around the city as what would become modern Märzenbier and be the official beer of Oktoberfest. This tradition lasted until 1990 when the lighter golden Festbier took over being the standard festival beer.
A 'Märzen' is a medium body beer that has a clean lager profile, rich, toasty, and bready malt flavor with restrained bitterness, and a dry finish. The first impression should suggest sweetness but finish dry to medium-dry. The alcohol in this beer should never be overpowering but can be lightly detected in the aroma. The overall malt impression should be soft, elegant and complex, with a rich aftertaste that is never heavy. It should have a creamy texture, which would often suggest fuller mouthfeel. There should be low to no hop aroma, no caramel, dry-biscuity, or roasted malt aromas present in this style.
Vital Statistics: OG: 1.054 – 1.060 IBUs: 18 – 24 FG: 1.010 – 1.014 SRM: 8 – 17 ABV: 5.8 – 6.3%
My method is pretty straight forward and I have had great success so far with this style. While I have never done a decoction for this style, the BJCP says that it traditionally used to help develop the rich malt profile. But you can still get great results without doing this. When brewing, I aim for a fermenter volume of 5.2 gallons, and I'll transfer into a keg with a cut dip tube w/ airlock for secondary place in my kegerator to lager. I work with a blank slate by getting some distilled water from my local grocery store. This is definitely something you don't have to do but water will make a difference in this beer. Water profile what I went with for this beer was my Märzen profile Calcium: 12ppm Magnesium: 17ppm Sodium: 4ppm Sulfate: 18ppm Chloride: 8ppm Bicarbonate: 0 ppm. The way that it works out is:
Mash water 4.83 gallons is .98g Epsom salt, .39g Calcium Chloride, .09 chalk
Sparge water 3.39 gallons is .69g Epsom Salt, .27g Calcium Chloride, .06g chalk.
Recipe:
4lbs. Dingemans Munich
4lbs. German Pilsner
1lb. 12oz Bestmaltz Munich Dark
1lb. Bestmaltz Caramel Munich
8oz Avangard Vienna Malt
Mash temp 151 degrees for 80 mins Mash Out 168 degrees for 10 mins
Boil for 90 mins
1oz Hallertau 60 mins
.75oz Hallertau 15 mins
1tsp Irish Moss 10 mins
2pks of White Labs WLP#820 octoberfest/märzen lager or 1pkg and make a starter. I like to add 1200ml water and ¾ light pilsner DME, then boil 15 mins. Cool to 70 degrees then pitch yeast and stir for a day.
Fermentation schedule 52 degrees for week and half and check 5 points from the end of fermentation raise the temperature to room temp for diacetyl rest for 2 days then lower the temp 5 degrees a day till you reach 36 degrees then you will hold steady and lager for 6 weeks.
Commercial Examples: Buergerliches Ur-Saalfelder, Hacker-Pschorr Original Oktoberfest, Paulaner Oktoberfest, Weltenburg Kloster Anno 1050
https://gotbeer.com/hop-chatter/a-brief-history-of-marzen-and-oktoberfest
Learn: Marzen | Oktoberfest article
Style Profile Oktoberfest article
"What the Hell is a Marzen?" article
https://www.theatlantic.com/international/archive/2015/04/how-the-beer-garden-came-to-be/391343/
https://www.bjcp.org/docs/2015_Guidelines_Beer.pdf