Podcast: Play in new window | Download
Welcome back to another episode of our Homebrew Happy Hour podcast… the podcast where we answer all of your home brewing questions and discuss anything related to craft beer!
On Today's Show:
In case you missed it… IMPERIAL YEAST IS NOW SPONSORING OUR MONTHLY RECIPE KITS! Members of our $35 and $50 monthly tiers will now receive premium Imperial liquid yeast with their recipe kits. 
Todd is out of town with his mother as she undergoes surgery so it's just James and I today to take your questions and small talk you to death! We discuss various methods of adding flavors to your sparkling water, we also talk about a listener who accidentally added the wrong bittering hops to his brown ale and he's wondering if he can "fix" it, and James helps a listener out who is needing help deciding which faucets to add to his upcoming keezer build.
Don't forget about our LIVE Q&A with Michael Ferguson on February 26th @ 10am central! Below is a blurb about our good friend Michael and a promo banner for the Q&A event —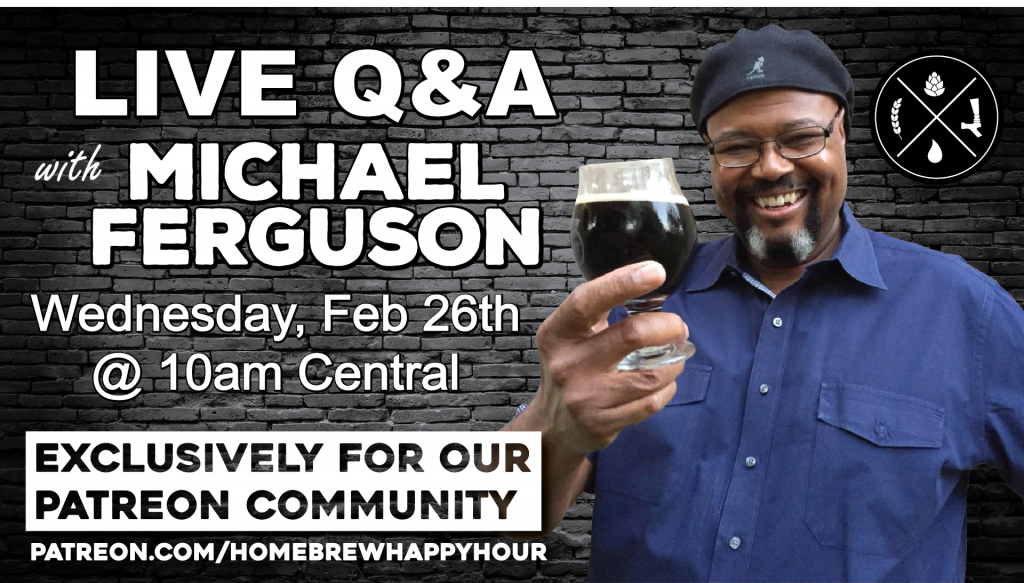 Emmy-nominated Beer Geeks host master brewer Michael Ferguson has been called a pioneer in the craft beer world and is now in his 30th year as an industry professional. As director of brewery operations for BJ's Restaurants, Inc., he opened more than 120 BJ's Restaurant and Brewhouse locations. Michael previously brewed for Station Casinos, Inc., and was responsible for multiple breweries including Barley's Casino & Brewing Company, as director of brewery operations. He owns BrewerFX LLC, a company that provides brewery consulting and production and voiceover services, and currently manages Farmboy Brew Shop in Katy, Texas
We want to hear from you!
If you have a question that you'd like us to discuss on a future episode, please click on the "Submit a Question" link at the top of our website or you can now call in your questions via our questions hotline @ 325-305-6107 and leave your message after the beep. This is a friendly reminder that, if we choose your question for a future episode, we give you a $25 gift card to that episode's sponsor!
Let us know what you think and enjoy the show!
cheers,
joshua
---

Thank you to our show's sponsor, Spike Brewing Equipment, for supporting us and the homebrewing community. Learn more about their incredible equipment at SpikeBrewing.com/HomebrewHappyHour and make the most of your brew day

————————–
Become a Patron!  Reminder that these episodes are ultimately made possible because of YOUR support. Consider becoming a member of our newly launched Patreon page and receive perks such as merch, exclusive group access and content, recipes, and some tiers even get monthly recipe kits mailed to you! https://www.patreon.com/HomebrewHappyHour
————————–
Are you a member of the
American Homebrewers Association
yet? Join today and receive a FREE copy of "Session Beers" by Jennifer Talley on top of all the other cool perks that an AHA membership offers — CLICK HERE FOR MORE INFO